In honor of St. Patrick's Day next week, let's talk about the color green. It can be a tough one to decorate with, but it's very rewarding when you do it right.
Green comes from nature, which often makes us feel calm and refreshed. Believe it or not, the color expert J. L. Morton says on his Color Matters website that people who work in green rooms have fewer stomachaches.
We'll show you a few approaches you can take to make your home more green (we mean literally green this time — we'll come back to eco-friendly decorating another week).
Let's start with what not to do…
Planning ahead is the key to DIY success. Now let's get started with what you absolutely should do.
Least effort option: Buy a few plants
Not only do plants look nice, but they also purify the air and increase oxygen levels, so you can be happier and healthier. Plants are great because they can be added almost anywhere to improve the look and feel of a room without making it feel cramped or cluttered.
Check out how houseplants improve these spaces.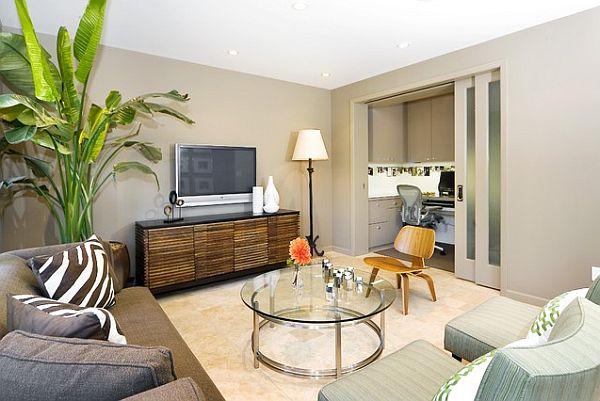 Be sure to find a plant that matches the amount of sunlight you can give it. Here are some great low-light plants. Herbs are best on a sunny kitchen windowsill.
Also, they say lavender helps you sleep.
We know not everyone has a green thumb. Here's a practical and failsafe guide to keeping your plants alive. And if that still hasn't convinced you, try your luck with one of these top 10 hard-to-kill houseplants.
Medium effort option: Incorporate green accessories
Here's a mix of green accessories you can buy today.
Rugs are an easy way to bring a splash of color into a room.

Pillows are an even easier way to add a color pop. Here are three distinctive options, all available from One Kings Lane.
It takes time to find the perfect art for each room in your house. We see a lot of homes with empty walls — don't let that be you! West Elm is a great place to start your search. Here's a helpful article about hanging artwork without leaving holes in the wall that's a must-read if you're renting.
Most effort option: Paint your walls green
If none of your walls are green, you're probably terrified of green paint. But don't worry, a green room doesn't have to mean this:
Green works particularly well in kitchens and bathrooms. This kitchen's walls work off the green leaves outside, giving the room a warm, airy feel.

Seafoam green is one of our favorite bathroom colors. It's inviting, refreshing, and clean — perfect for bathrooms.
Still not sure how to incorporate green into your home? Post some pictures on Decorator and let the community show you some great options.