At the beginning of every year, Pantone and a few paint companies select a Color of the Year. They choose shades that represent the year's upcoming design color trends, and often happen to influence fashion trends too.
For the first time ever, Pantone selected two colors as their "Color" of 2016: Rose Quartz and Serenity.
Pantone claims they chose these shades because they "demonstrate an inherent balance … reflecting connection and wellness as well as a soothing sense of order and peace."
Rose Quartz and Serenity are beautiful shades that not only go great together, but also match many other colors. As soft and calming hues, they would work perfectly in a bedroom or bathroom. They could also easily pair with darker shades or earth tones to create great living or dining room palettes.
Here are some great examples:
While Pantone took a double-color approach, Benjamin Moore and Sherwin Williams declared 2016 a year without color. Benjamin Moore's chosen color is Simply White: the purest, cleanest white you could paint a room. Sherwin Williams selected Alabaster, an off-white shade that's slightly tan and gives rooms a fresh modern appeal.
Benjamin Moore says their white creates ambiance, definition, texture, and focus with diffused light, striking contrasts, and crisp borders.
Sherwin Williams chose Alabaster because it "represents a straightforward and necessary shift to mindfulness… Alabaster is neither stark nor overly warm, but rather an understated and alluring white."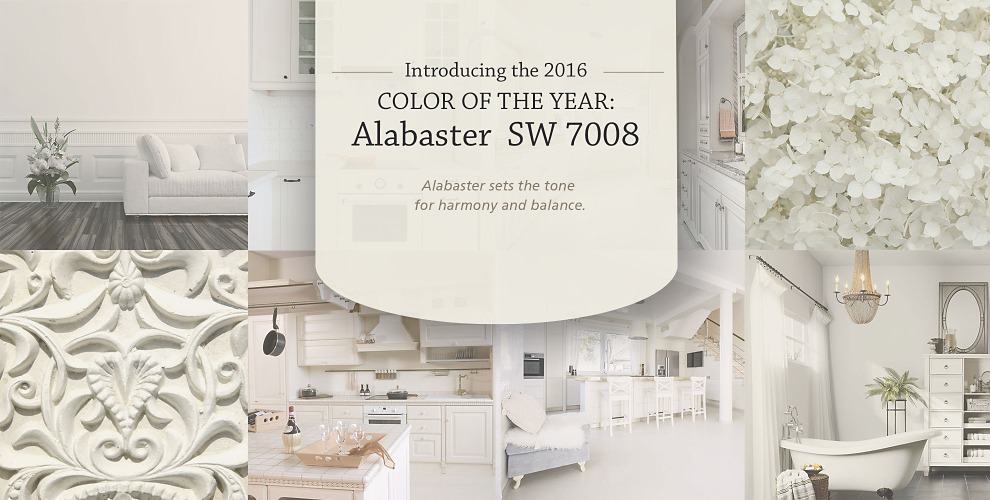 Summary
The most dramatic way to incorporate these colors into your home is to paint your walls with them, or a darker version of them.
Go with one (or both!) of Pantone's colors if you want to create a cheerful yet peaceful atmosphere.
Use Benjamin Moore's Simply White to start fresh. It's crisp, it's sleek, and it's a brand new canvas. The lack of color is just as bold as a bright color, and you can have a lot of fun with the rest of the room.
Sherwin Williams' Alabaster lets you warm up a room while keeping it neutral. It's light enough to look almost white in direct sunlight, but dark enough to give the room some ambiance at night.
An option that requires less commitment is popping accessories in these shades around your house. Put a light blue rug in your entryway, light some simple white candles on your dining room table, and toss a couple new off-white pillows onto your couch.